SmallRig M.2 SSD Enclosure SD-01 3479
SmallRig M.2 SSD Enclosure SD-01 with a wide application range and excellent performance is made of aluminum alloy as a whole and its good heat dissipation performance is ensured in addition to its small size. SD-01 is equipped with a USB-C interface with USB3.1 GEN2 10Gbps rate specification. M.2 solid-state hard drive with three different specifications of 2242, 2260, and 2280 can be installed inside, supporting dual-protocol of NVME and NGFF (SATA). The enclosure supports the intelligent dormancy function, which is energy-saving and environmentally friendly, reducing the heating of the hard drive and prolonging the lifetime.
By means of our special adjustment of the main controlling chip, this product can not only be used in daily office, audio-visual entertainment, and other scenes but also be compatible with a variety of camera devices and used as an external storage device for image equipment. SD-01 can be matched with mainstream electronic devices in the market, including desktop computers, laptops, tablets, mobile phones, game consoles, and other devices of Windows / Mac OS / Linux / Android. In addition, it is also compatible with image devices concerning BMPCC 4K/6K/6K Pro, Sigma Fp/FP L, ZCAM E2/M4/S6/F6/F8, and Blackmagic Design Video Assist.
Note:
1. The hard drive is a precision electronic device. Please read the manual patiently before using and operating it accurately to ensure your data security.
2. Do not disassemble or repair the PCBA plate without authorization.
3. Please avoid long-term application of the product in intense wrestling, collision circumstances, high temperature, low temperature, and humid and dusty environments.
4. It is required to format the hard drive before standard application for the newly purchased solid-state hard drive.
Work With
Compatible with image devices concerning BMPCC 4K/6K/6K Pro, Sigma Fp/FP L, ZCAM E2/M4/S6/F6/F8, and Blackmagic Design Video Assist
Packing List
1 x SSD Enclosure
1 x Screwdriver
2 x M2 Screw
1 x Copper Column
1 x USB-C Cable
1 x User Manual
1 x Silicone Thermal Pad
Technical Data
Product Dimensions: 110 x 30 x 12mm
Package Dimensions: 124 x 123 x 18mm
Product Weight: 63g±5g
Package Weight: 115g±5g
Material(s): Aluminum Alloy, Stainless Steel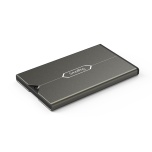 SKU:
SR2832 ,
Qty:
In Stock
15,00 €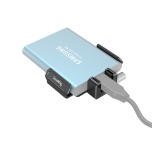 SKU:
SR3272 ,
Qty:
In Stock
45,00 €
Uus toode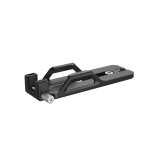 SKU:
SR3478 ,
Qty:
In Stock
33,00 €