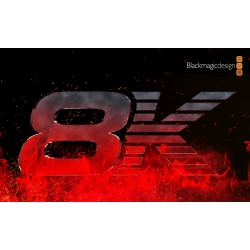 From the NAB show floor

At NAB 2019 Blackmagic Design is pleased to announce some very exciting new products, many of them 8K capable. Not only does this mean that they are future proof, but the extra power brings many more advanced features and capabilities to HD and Ultra HD workflows too. Here's the rundown..

HyperDeck Extreme 8K HDR
The trusted reliability of HyperDeck combined with new innovations, including native 8K HDR support and space saving H.265 files - record over 8 hours of 8K footage on a single 1TB CFast disk!
Pricing: $4,995
Availability: June 2019
HyperDeck Extreme Control
Control up to eight HyperDecks, and/or legacy broadcast VTRs, with a single controller.
Pricing: $1,295
Availability: June 2019
MultiDock 10G
An advanced SSD dock that lets you access 4 separate SSDs via a single high speed 10 Gb/s USB-C connection. Can be connected to the HyperDeck Extreme 8K HDR.
Pricing: $595
Availability: June 2019
ATEM Constellation 8K
An incredibly powerful 8K live production switcher and amazing Ultra HD switcher too, with 4 M/Es, 40 x 12G-SDI inputs, 24 x 12G-SDI outputs, 4 DVEs, 16 Keyers, 4 media players, 4 multi viewers, 2 SuperSource and standards conversion on every SDI input.
Pricing: $9,995
Availability: NOW
Teranex Mini SDI to HDMI 8K HDR
An advanced 8K monitoring solution for large screen televisions and video projectors. The perfect accessory for the ATEM Constellation 8K.
Pricing: $1,295
Availability: May 2019

DaVinci Resolve 16
Features a revolutionary new dual timeline cut page specifically designed for fast turnaround editing. The new DaVinci Neural Engine introduces new features such as facial recognition, speed warp, auto color balancing and shot matching and object removal.
Pricing: Free upgrade
Availability: Public beta downloadable now

DaVinci Resolve Editor Keyboard
Premium, all-metal, USB-C keyboard with integrated jog control to help professional editors work faster. Work with both hands for the fastest approach to nonlinear editing.
Pricing: $995
Availability: August 2019

Fusion 16 Studio
A major new upgrade that brings all improvements made in DaVinci Resolve to the stand alone version. Now includes GPU acceleration of all 3D, B-spline and bitmap mask operations.
Pricing: Free upgrade
Availability: Public beta downloadable now

Pocket Cinema Camera 4K Battery Grip
Carbon fiber non-slip hand grip that houses two rechargeable L-series batteries to extend Pocket Cinema Camera 4K recording time to over 2 hours.
Pricing: $245
Availability: August 2019

For more details on all of these exciting new products, please visit the Blackmagic Design website.