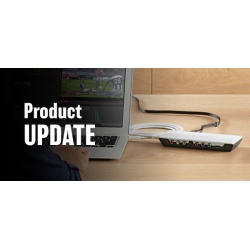 Recently retired products

As a result of several new releases in recent weeks, the following products are no longer available, with immediate effect.

End of life products (with SKU):
Blackmagic Video Assist (HYPERD/AVIDAS5HD)

Blackmagic Video Assist 4K (HYPERD/AVIDAS74K)

UltraStudio Mini Monitor (BDLKULSDZMINMON)

UltraStudio Mini Recorder (BDLKULSDZMINREC)

Blackmagic URSA Mini 4K EF (CINEURSAM40K/EF)

Blackmagic URSA Mini SSD Recorder (CINEURSASHMSSD)

Intensity Shuttle (BINTSSHU)*

Intensity Shuttle Thunderbolt (BINTSSHU/THBOLT)*
The new Video Assist 3G, UltraStudio 3G and Blackmagic URSA Mini Recorder products are suggested replacements for the above models.
* There are no suggested replacements for the discontinued Intensity Shuttle products.