Soodus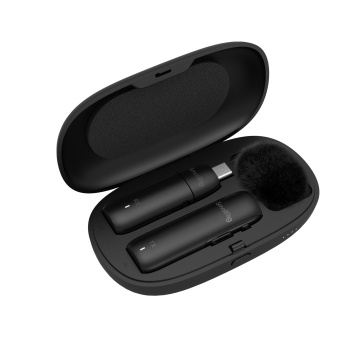 Zoom
SmallRig Wave W1-C Wireless Lavalier Microphone 3495
SmallRig Wave W1-C is a 2.4G wireless lavalier microphone with a low-latency audio transmission, a must-have for online influencers, karaoke-goers, and vloggers. Featuring industry-leading DSP for noise and sound processing, it supports such gears as smartphones, tablets, PCs, laptops, iPads, and Macbooks to deliver professional-quality recordings. Simple but smart, this microphone is lightweight and portable and equipped with a large-capacity charging case that allows a long battery life of up to 30 hours. The stable wireless audio transmission boasts a maximum signal range of 100 meters (without obstacles); with bi-directional monitoring and gains adjustment for real-time control of the recording. It can be widely used in outdoor live streaming, interview recording, video recording, online Karaoke, and online teaching, bringing users an incredible high-quality audio experience.
Key Features
1. Low-latency wireless audio transmission, signal range of up to 100m (no obstacles).
2. Long battery life of up to 30 hours (with charging case).
3. Omnidirectional high-performance MEMS microphone for high-definition and high-quality recording.
4. Bi-directional monitoring and gain adjustment for real-time control of the recording.
5. 90-degree adjustable RX, suitable for various scenarios.
6. Lightweight and portable, stylish and beautiful.
7. Plug and play, smart pairing.
Packing List
1 x Transmitter(TX)
1 x Receiver (RX)
1 x Furry Windshield
1 x Charging Case
1 x USB-C Charging Cable
1 x User Manual
Technical Data
Signal transmission:2.4G
Pickup pattern: Omnidirectional
Frequency range:20Hz-20KHz
THD:<0.15%
S/N:≥65dB
Sampling frequency:48kHz
Bit:16bit
Sensitivity:-38±3dB (0dB=1V/Pa, at 1KHz)
Wireless range:100m (no obstacles)
Operating battery life:5 hours for TX on one charge Up to 30 hours (with charging case)
Charging case interface: USB-C
Battery capacity:
TX: 130mAh 3.7V 0.481Wh
Case:730mAh 3.7V 2.701Wh

Charging time:
TX: 1H
Charging Case: 2H
Product Dimensions:
TX: L x W x H (60 x 18.75 x 15.76mm)
RX: L x W x H (61.28 x 18.43 x 10.48mm)
Charging Case: L x W x H (107.27 x 60.35 x 30mm)

Package Size: 168 x 93 x 42mm
Package Weight: 248g±5g
Net Weight: 14g (TX); 9g (RX); 76g (Charging Case)
Material: ABS+Stainless Steel