Soodus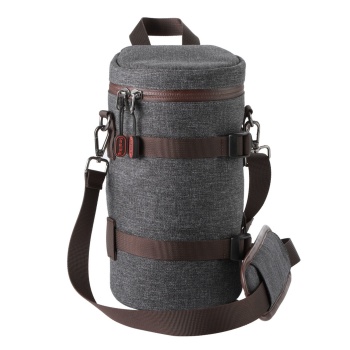 Zoom
SmallRig Lens Shoulder Bag ABL2325
Key features:
1.Tough wear-resistant and weather-resistant Nylon exterior with a 10mm pearl cotton interior to prevent accidental bump and collision.
2. Removable non-slip straps and sponge shoulder pads can enhance comfort when carrying a heavy lens.
3. Modular design allows the bag to be used on a belt with the secure hook and loop flap or as a traditional shoulder bag.
4. Sturdy Metal Swiveling Snap Hooks & D-Rings provide a 5KG (11 lb) load-bearing capacity.
5. Adjustable body width makes the lens more firmly in the bag.
SmallRig lens shoulder bag ABL2325 is a universal medium telephoto lens shoulder bag, which can be used separately for outdoor shooting. Waterproof nylon exterior and 10mm thick internal makes the shoulder bag wear-resistant and prevent the collision from outside. What's more, the soft shoulder pad can largely reduce the pressure of the shoulder, improve the comfort in your shooting process.
Make room in your camera bag with one of these dedicated medium telephoto lens bags!
Compatibility(include but not limited to):
Canon EF 70-200mm f/4L IS USM
Canon EF 70-200mm f/2.8L IS II USM
Canon EF 70-200mm f/2.8L IS III USM
Canon EF 28-300mm f/3.5-5.6L IS USM
Canon EF 85mm f/1.2L II USM
Nikon AF-S NIKKOR 70-200mm f/2.8G ED VR II
Nikon AF-S NIKKOR 70-200mm f/2.8E FL ED VR
Sigma APO 70-200mm f/2.8 EX DG OS HSM
Tamron SP 70-200mm f/2.8 Di VC USD
Tamron SP 70-200mm f/2.8 Di VC USD G2
Package Include:
Lens Bag*1
Shoulder Straps*1
Shoulder Pad*1
Product Dimensions:260*130*130mm
Package Dimensions:230*160*135mm
Net Weight:265g
Package Weight:270g
Material(s): Nylon