Soodus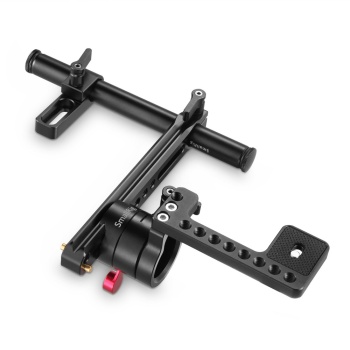 Zoom
SmallRig EVF Mount with NATO Rail 1903
SmallRig EVF Mount with NATO Rail 1903 includes a 15mm rod, a single rail clamp, a safety NATO rail with 15mm rod clamp and an EVF mount. It could be mounted on the cage on the one end, while mounted with monitor or EVF with a 1/4" screw on the other end. It enables to adjust the position of the EVF or monitor up to 360 degree. The NATO rail features safety pins to prevent accidental accessory removal. In addition, it comes with multiple 1/4"-20 threaded holes for DIY operations.
Key Features
1. It supports 360°adjustment of monitoring.
2. It supports monitor/EVF no more than 1.5kg.
3. Rod, rod clamp and NATO rail work together to position monitor quickly.
4. It comes with a rubber cushion on the top to prevent accidental scratches, features firm locking and many 1/4"-20 threaded holes for DIY options.
Work With
5" or 7" viewfinders and monitors, like SmallHD DP4
Packing List
1 x safety NATO rail with 15mm rod clamp 1856
1 x single rail clamp 1549
1 x EVF mount 1594
1 x 15mm 6" rod 1050
2 x 1/4"-20 screw
1 x hex spanner
Technical Data
Product Dimensions: 147x260x147mm
Net Weight: 269g
Package Size: 185x100x62mm
Package Weight: 310g
Material: Aluminum Alloy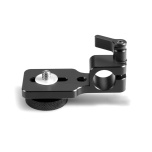 SKU:
SR960 ,
Qty:
In Stock
21,00 €
Soodus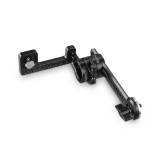 SKU:
SR1938 ,
Qty:
In Stock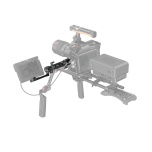 SKU:
MD3507 ,
Qty:
In Stock
180,00 €