Soodus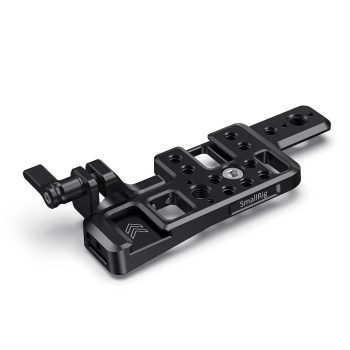 Zoom
SmallRig Lightweight Top Plate for BMPCC 4K & 6K APT2510
Key Features:
1. Multifunctional top plate for BMPCC 4K & 6K.
2. Mount on the camera with 1/4"-20 and anti-twist insertions.
3. Multiple 1/4"-20 and 3/8"-16 threaded holes.
4. Two cold shoe mounts and two ARRI locating holes.
5. Built-in NATO rail.
SmallRig Lightweight Top Plate for BMPCC 4K & 6K APT2510 firmly mounts to the camera using a 1/4"-20 screw and an anti-twist insertion to the strap hole on the left. It is an option for people who prefer to set up a lighter handheld rig or for better gimbal balance. The plate features a variety of mounting options including 1/4"-20 and 3/8"-16 holes, ARRI locating holes, two cold shoes and a built-in NATO rail, which makes it easy to attach light accessories like a small microphone, a 5 inches monitor, or a SSD. The included 15mm rod clamp is detachable and can mount on several selected places, so you can use a separately available 15mm rod to add more accessories.
Designer: Kevin Wong
NOTE:
1. Please make sure the anti-twist insertion is well placed before tightening the 1/4"-20 screw;
2. Max payload on the camera is 800g;
3. Please do NOT attach a top handle or side handle on the plate.
Compatibility:
BMPCC 4K
BMPCC 6K
Package Includes:
1 x Top Plate
2 x Hex Spanner
Product Dimensions: 128 x 44 x 25mm
Package Dimensions: 180 x 100 x 40mm
Net Weight: 85g
Package Weight: 137g
Material(s): Aluminum Alloy