Laost otsas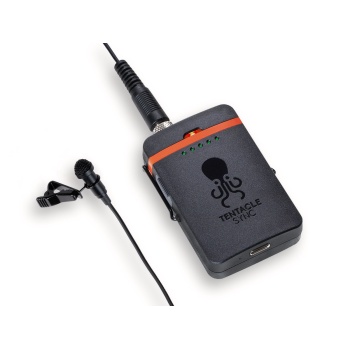 Zoom
TRACK E - TIMECODE AUDIO RECORDER
The TRACK E Timecode Audio Recorder is nearly as small as the Timecode Sync Generator SYNC E, so it can easily fit in your pocket for recording on the go. This allows mobile operation for example as a recorder for a clip-on microphone eliminating the need for a radio-link. It offers timecode synchronization over Bluetooth® based on the well established Tentacle Sync technology. This means that the TRACK E will work in environments where regular wireless transmitter fail.
Controllable through the Setup App for iOS or Android, it seamless integrates into the SYNC E synchronization network by the push of a button via Bluetooth®. But the TRACK E does not necessarily need a SYNC E device to operate – it can easily function as a stand-alone device and can be jam-synced via cable.
In addition to the ability to record with 24-bit depth, TRACK E also features 32-bit floating point technology for a significantly extended dynamic range. 32 bit floating point also means that no digital clipping will occur, making the TRACK E a versatile set-&-forget-device that will always deliver high quality audio. With the TRACK E users can treat audio in a similar way as photographers use the RAW camera photo format – all details can be adjusted in post production, significantly reducing the preparation time before you start shooting.
The TRACK E uses a changeable SDcard for recording the audio. An input limiter and a high-pass filter guarantee for pristine recording quality. A screwable mini jack connector offers maximum security for connecting microphones. The TRACK E features plugin power for supporting a wide range of microphones. A free license of Tentacle Sync Studio (Mac) is included with every TRACK E purchase.
FEATURES
32-bit Float Recording / 24-Bit Recording
Control Multiple Devices via Bluetooth® (iOS & Android)
Wireless Timecode Sync (Bluetooth®) / Jam-Sync via Cable
Up to 10 hours Operating Time
General Purpose Lavalier Microphone with Clip and Windjammer included
16GB microSD Card included
2 Year Limited Warranty
Designed and Manufactured in Germany
TECHNICAL SPECIFICATIONS
Recording
Number of Tracks: 1
Sampling Rate: 48 kHz
Recording Bit-Depth: 32-bit Float / 24-bit
Recording File Formats: WAV (BWF)
Recording Time: 30hrs (24-bit) / 23hrs (32-bit Float) with 16GB Card
Storage Media: microSDHC Card up to 32GB (Recommended Class 10)
Signal Processing: Low Cut Filter, Limiter (24-bit only)
Connectivity
Microphone Input: 3.5mm Jack (screw lock)
Mic Plug-In Power: 5 V (switchable)
Headphone Output*: 3.5mm Jack
USB Connection: USB-C (USB 2.0)
USB Modes: Charging, Card Reader, Firmware Update
Performance
Frequency Response: 20Hz - 20kHz
Gain Range: +6 to +46dB
Dynamic Range: 110dB typ
THD+N: ≤ -85 dB (0,05%)
Control & Sync
Bluetooth®: 5.0
Remote Control: Tentacle Setup App (iOS/Android)
Synchronization: Via Bluetooth® (Tentacle Setup App) or Jam-Sync via Cable
Timecode Input: LTC via Mic In
Timecode Output: N/A
Frame Rates: SMPTE 12M / 23.98, 24, 25, 29.97, 29.97DF, 30
Power
Power Source: Built-in rechargeable Lithium Polymer Battery
Battery Capacity: 900 mAh
Battery Operation Time: approx. 10 Hours
Battery Charging Time: max. 2 Hours
Mounting: Belt Clip (removable) - Black Powder-Coated Stainless Steel
Weight: 58 g / 2.1 oz
Dimensions: 47 x 68 x 19 mm / 1.85 x 2.67 x 0.74 inches
WHAT'S IN THE BOX?
1x Tentacle Sync TRACK E - Timecode Audio Recorder
1x General Purpose Lavalier Microphone with 3.5mmLockable Connector

Microphone Clip
Windjammer (black)
Zipper Bag small

1x 16GB microSD Card
1x USB-A to USB-C Cable
1x USB-C to USB-C Cable
1x Belt Clip made of Powder-Coated Stainless Steel in Black
1x Zipper Bag medium
5x Coloured Silicone Bands
1x Software License for Tentacle Sync Studio(macOS)