Laost otsas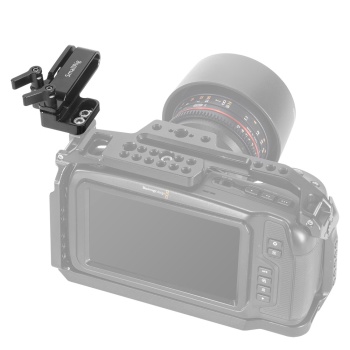 Zoom
SmallRig Samsung T5 SSD Mount (New Version) 2245B
SmallRig Samsung T5 SSD Mount (New Version) 2245B allows to mount the Samsung T5 SSD to cameras rigs that can record directly to an SSD via their USB-C port, such as BMPCC 4K/6K, Z CAM and URSA Mini Pro 4.6K G2. It attaches to the camera rigs using two included 1/4"-20 screws, which can flexible position on cage or handles. It secures both the T5 SSD and the connected USB-C cable by locking levers.
NOTE:
This is the NEW VERSION 2245B but can still work with the OLD VERSION cage 2203, CVB2254 and CVB2255. Please bolt it to the suggested place as shown in the picture using two 1/4"-20 screws, which won't interfere with other accessories attached.
If you need the OLD VERSION products, we have them in stock in SmallRig Amazon and Ebay stores.
If you are using other SSD, SmallRig Universal Holder for External SSD BSH2343 is available.
Key Features
1.Attaches to cages or handles with two 1/4"-20 screws
2.Uses with cameras that output to external SSD
3.Secures T5 SSD & USB Type-C Cable
Packing List
1 x SSD Holder
2 x 1/4"-20 Screw
1 x Hex Spanner
Technical Data
Product Dimensions: 72 x 49 x 34mm
Package Dimensions: 120 x 100 x 40mm
Net Weight: 63g
Package Weight: 91g
Material(s): Aluminum Alloy
SKU:
BSH2343 ,
Qty:
Out of Stock
,
Delivery time:
1-6 weeks
66,00 €
SKU:
SR3300 ,
Qty:
Out of Stock
,
Delivery time:
1-6 weeks
36,00 €
SKU:
SR3272 ,
Qty:
Out of Stock
,
Delivery time:
1-6 weeks
45,00 €