Laost otsas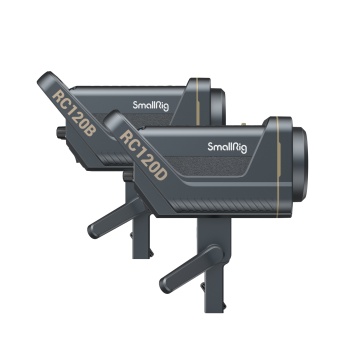 Zoom
SmallRig RC120B (EU) 3615
SmallRig RC120B (EU) 3615, the first generation point-source LED light of SmallRig. With the latest COB technology and SmallRig's industrial design excellence, the RC120B is unique. With the included high-reflectance hyper reflector, at a distance of 1 meter (3.3 ft.), the center illuminance reaches 52,800 lux at 5600K, Far beyond the same level of products on the market. High color fidelity, CRI 95+, TLCI 96+. Standard Bowens mount allows it to compatible with more light-control accessories. 9 built-in light effects "Paparazzi, Firework, Lightning, Fault Bulb, TV, Breath, Flash, Party, Flame" and brightness can be remotely controlled by SmallGoGo.
Users and scenarios: Living streaming, V-log, Wedding, Documentary, TVC.
Note:
1. The 4 SKUs only have different plug specifications
2. 3471-US, 3615-EU, 3616-UK, 3617-AU
3. APP download address:https://www.smallgogo.com
Key Features
1. At a distance of 1 meter (3.3 ft.), the maximum illuminance of the bare light source is 4,450 lux at 5600k. The illuminance level increases to an impressive 52,800 lux after attaching the hyper reflector;
2. TLCI 96+, CRI 95+, CCT 2700K-6500K, ultra-high color rendering, truly restore the color of objects;
3. Supports manual light control and remote control with the SmallGoGo App. Intelligent light control offers color temperature adjustment and 9 light effects;
4. Dual power supply system, support AC adapter, and 14.4V/26V V-mount battery ;
5. The noise level of the ultra-quiet fan is only 25dB±2dB at 1 meter (3.3 ft.);
6. When the temperature of the lamp body exceeds 60℃ (140°F), the active heat dissipation function is turned on;
7. Standard Bowens mount: compatible with most light-control accessories;
8. Comes with a high-quality snowflake cloth portable storage bag.
Packing List
RC 120B
Protection cover
55°Hyper-Reflector
AC adapter
Power cable
Carrying bag
Technical Data
Color temperature: 2700-6500K(±200K)
Net weight: 2,400g
Product dimension:240×122×237.6mm
Package Weight: 5,200g
Package dimension: 510×270×250mm
Packing quantity: 1PC/Carton
Material: PC+ Aluminum alloy
Laost otsas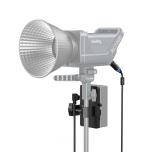 SKU:
SR3676 ,
Qty:
Out of Stock
,
Delivery time:
2-6 weeks
84,00 €