Soodus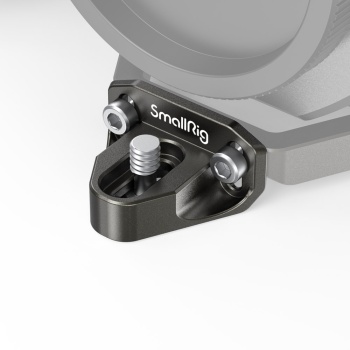 Zoom
SmallRig Lens Adapter Support for BMPCC 4K Cage (Dark Olive) 2769
Key Features:
1. For SmallRig Cage 2766 and Metabones & Viltrox Lens Adapter.
2. Secures Lens Adapter to Cage with Two M4 Screw.
3. Relieves Pressure of Heavy Lenses.
SmallRig Lens Adapter Support for BMPCC 4K Cage (Dark Olive) 2769 provides support for heavy lenses when using a compatible Metabones or Viltrox lens adapter and SmallRig BMPCC 4K cage 2766. It screws into the cage with two included M4 screws, and the lens support attaches to the lens adapter with the included 1/4"-20 screw.
Designer: Victor Tang, Jerry Zhang
NOTE:
1. This adapter support is NOT compatible with BMPCC 6K.
2. This adapter support can be used both upright and upside-down, please attach it accordingly.
Compatibility:
SmallRig Cage 2766
Metabones Canon EF Lens to Micro Four Thirds T Smart Adapter (MB_EF-m43-BT2)
Metabones Canon EF Lens to Micro Four Thirds T Speed Booster XL 0.64x (MB_SPEF-m43-BT3)
Metabones Canon EF Lens to Micro Four Thirds T CINE Speed Booster ULTRA 0.71x (MB_SPEF-m43-BT5)
Metabones Canon EF Lens to BMPCC4K T Speed Booster® ULTRA 0.71x (MB_SPEF-m43-BT8)
Metabones Canon EF Lens to BMPCC4K T CINE Speed Booster® XL 0.64x (MB_SPEF-m43-BTB)
Metabones Canon EF Lens to BMPCC4K T CINE Speed Booster® ULTRA 0.71x (MB_SPEF-m43-BTA)
Viltrox EF-M2 Auto Focus Mount Adapter 0.71X
Package Includes:
1 x Lens Adapter Support
1 x Hex Spanner
Product Dimensions: 39.5 x 33.5 x 23.5mm
Package Dimensions: 45 x 40 x 30mm
Net Weight: 19g±5g
Package Weight: 50g±5g
Material(s): Aluminum Alloy