Uus toode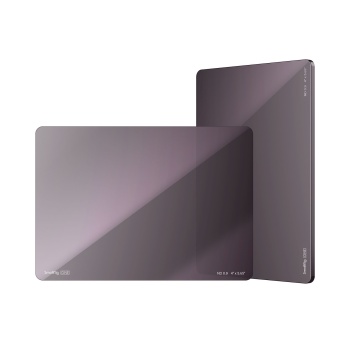 Zoom
SmallRig CINE 4 x 5.65" ND0.9(3 Stops)Filter 4225
SmallRig 4 x 5.65" ND0.9(3 Stops)Filter 4225 is one of the CINE ND filters designed for professional photographers. It features 12.5% light transmittance, with three stops of light extinction, and optical glass, precisely ground and polished for use with a 4 x 5.65" filter tray or matte box. Made of high-clarity, high-transmission B270 optical glass from Germany, this filter is coated on both sides with multi-layer nano-coating to ensure high-accuracy color reproduction. These coatings are mildew-proof, waterproof, oil-resistant, and anti-scratch, making the item easy to clean and store, and ideal for use in video or film shooting. The filter allows for a wider aperture for added blur of the background and control of image sharpness, thereby improving latitude and image quality.
Note:
1. Compatible with 4 x 5.65" filter tray or matte box.
2. Incompatible with 100 x 150mm filter tray.
Work With
1. Universal 4 x 5.65" filter tray or matte box
2. 3196, 3575, 3680, 2660, 3641, 3645, 3556
Packing List
4 x 5.65" ND0.9(3 Stops)Filter x 1
Carrying Bag x 1
Clean Cloth x 1
Technical Data
Product Dimensions: 143.45 x 101.55 x 4.0mm
Package Dimensions: 206.0 x 150.0 x 25.0mm
Product Weight: 147.0 ± 5.0g
Package Weight: 195.0 ± 5.0g
Material(s): B270 Optical Glass