Uus toode
Laost otsas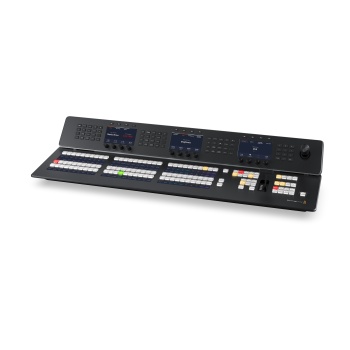 Zoom
Description
The ATEM 1 M/E Advanced Panel 30 features a single M/E row, 30 input button design that is ideal for switching big productions from desk surfaces that are not deep enough for a bigger panel. It has 3 independent system control LCDs plus it can control up to 4 M/Es in larger switchers. All input buttons include LCDs for custom labeling and it also includes an independent select bus! Dual power inputs provide redundancy and the built-in 4 port Ethernet switch means no additional network equipment is needed so it will fit even the most challenging live production spaces!
Product Specifics
Number of Mix Effects Rows
1
Direct Cross Points
30
Shifted Cross Points
60
Crosspoint Button Type
Tri-Color LED
Preview Transition
1
Transition Rate Displays
Via main menu
LCD Menu Displays
3
Menu Control
3 x 20 buttons
Dedicated Macro Buttons
1 x 30
Transport Control Buttons
8
Destination Bus
1
Source Select Bus
1
Fader Bar
1
3 Axis Joystick
1
Numeric Keypad
1
Software
Software Applications
ATEM Software Control Panel.
Power Requirements
Input Voltage
2 x Internal 100 - 240V AC.
Redundant Power
Yes
Power Usage
80W
Environmental Specifications
Operating Temperature
0° to 40° C (32° to 104° F)
Storage Temperature
-20° to 60° C (-4° to 140° F)
Relative Humidity
0% to 95% non-condensing
What's Included
ATEM 1 M/E Advanced Panel 30
Welcome wallet with QR code for software download
Warranty
12 Month Limited Manufacturer's Warranty.