Laost otsas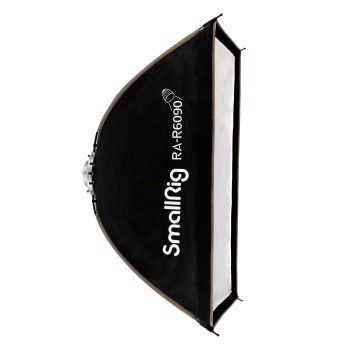 Zoom
SmallRig RA-R6090 Rectangular Softbox 3930
Develop the latest generation of quick-release chuck design, ultra-saving pressing structure, Only press and lift simplify installation and disassembly and save time and effort.
Adopt high-reflective coating + Oxford lattice double fabric structure, solid outdoor grade materials, more durable; high-reflective coating, while retaining the original color temperature and CRI, give a more uniform soft light effect.
4 umbrella ribs three-dimensional support, to create a certain depth of the surface effect. using materials from the military umbrella field, lighter and tougher, high elasticity, high-temperature resistance, and can withstand tens of thousands of presses without deformation.
Umbrella ribs are all externally mounted to ensure smooth and even coating on the inner side, without affecting the internal reflected light function, what's more, umbrella bones don't come off the Velcro easily.
Comes with two high-quality soft cloth and a grille, which can be freely selected according to needs.
Users and Scenario: Portrait shooting, Product shooting, Live video, People interview, E-commerce shooting.
Key Features
1. RA-R6090 is a Rectangular Softbox with 60*90cm.
2. Universal Bowens mount design, makes it compatible with SmallRig RC 120D/RC 120B/RC 220D/RC220B and other Bowens Mount Light of other brands.
3. In The new generation of self-developed quick-release design, the diffusion and the frame are combined into one, you can easily install and disassemble the softbox in seconds, simplify the use process, and bring you the best user experience.
4. Also includes a high-quality fabric grid to help focus your light beam angle to 45 degrees, which will allow you to maximize control of your lighting.
5. Using industrial-grade soft material and highly reflective coating. With two fabric diffusion to satisfy your different needs.
Packing List
Softbox x1
Fabric Grid x1
Internal Diffusion x1
External Diffusion x1
Carrying Bag x1
User Manual x1
Technical Data
Opening Softbox Size: 60×90cm(23.6×35.4in)
External Diffusion Size: 59×87cm(23.2×34.3in)
Internal Diffusion Size: 42×62cm(16.5×24.4in)
Honeycomb Grid Size: 59×89cm(23.2×35in)
Product Weight: 1330g/2.87lbs
Gross Weight: 2410g/5.31lbs
Materail: Oxford Cloth+Aluminum Alloy
Inner Box Dimension: 20*20*80(±1)cm
Outer Box Dimension: 82*42*43(±1)cm