Laost otsas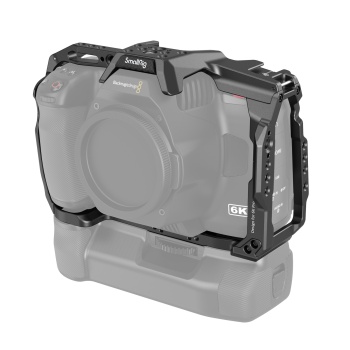 Zoom
SmallRig Full Cage for BMPCC 6K Pro(Advanced Version)3517
SmallRig Full Cage for BMPCC 6K Pro(Advanced Version)3517 is a dedicated full cage for BMPCC 6K Pro and battery grip. It firmly locks the camera via threaded holes on top and bottom to prevent twisting and features rubber pads at the bottom to avoid scratching. When the cage works with the removable Pogo Pin connector, it can be directly connected to the original battery handle to supply power. Features an ARRI locating hole, 1/4"-20 threaded holes, and cold shoe on the top, allowing for mount on ARRI top handle 2165 for handheld shooting. The cold shoe can attach Samsung T5 SSD mount 3272. The cage comes with shoulder strap holes on the top of each side for attaching a shoulder strap or other accessories. The left side has a NATO rail, 1/4"-20 threaded holes for mounting side handle 2270. The dedicated HDMI & USB-C cable clamp 3271 can be attached to ensure the stability of the hard disk and the stability of data transmission during shooting. The holes at the top-right corner and bottom-left corner attach the following focus rod clamp. There are multiple threaded holes on the bottom for mounting quick-release plates like 1280 and 2146, which allows connecting to the original Arca-type plate of DJI RS2. Moreover, there is a built-in screwdriver on the bottom of the cage for your assembly. The form-fitting cage does not block ports, card slots, heat sinks, or battery doors. Its right side is ergonomically designed for a comfortable grip experience.
Key Features
1. Dedicated full cage for BMPCC 6K Pro.
2. Works with the removable Pogo Pin connector, it can be directly connected to the Blackmagic Pocket Camera Battery Grip for power supply.
3. Supports SSD mount, HDMI&USB-C cable clamp, and focus motor rod mount.
4. Fitted body lines of the camera for a comfortable grip feeling.
Work With
Blackmagic Design Pocket Cinema Camera 6K Pro & Blackmagic Pocket Camera Battery Grip
Packing List
1 x cage
1 x Pogo Pin Connector
1 x Rod Clamp Connector
6 x M4 Screw
1 x 1/4"-20 Screw
1 x Allen Wrench
Technical Data
Product Dimensions: 194 x 98.5 x 140.5 mm
Package Dimensions: 234 x 211.5 x 66 mm
Net Weight: 310g±5g
Package Weight: 527 g±5g
Material: Aluminum Alloy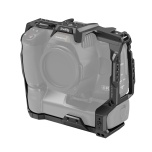 SKU:
SR3382 ,
Qty:
In Stock
219,00 €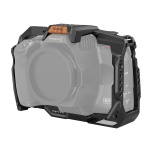 SKU:
SR3270 ,
Qty:
In Stock
126,00 €
Soodus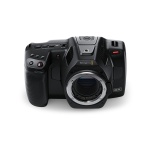 SKU:
CINECAMPOCHDEF06P ,
EAN:
9 338716 006858 ,
Qty:
In Stock
2442,00 €

(13%)
2814,00 €