Soodus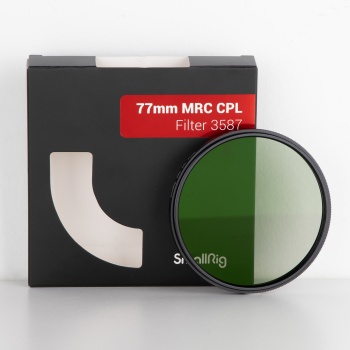 Zoom
SmallRig 77mm MRC CPL Filter 3587
SmallRig 77mm MRC CPL Filter 3587 is a double-sided multi-film polarizer designed to eliminate reflections from non-metallic surfaces such as water and glass, increase saturation while retaining the vivid color of photographs or videos. Made from high clarity, high transmission B270 optical glass, the filter is precisely ground and polished for use with lenses of various focal lengths without compromising image sharpness. It is coated on both sides with 18 films to increase light transmission and reduce reflections. These coatings are mildewproofed and water-resistant, toughened to prevent stain, and easy to clean and care for, making for a part of everyone's gear bag. The filter tray, made from aircraft-grade aluminum alloy, is CNC machined, laser engraved, and anodized for long-term use without wear and tear. The filter is compatible with lenses of 77mm in diameter.
Key Features
1. Polarization coating eliminates polarized light, increases color saturation, and removes reflections from non-metallic surfaces.
2. Made of excellent SCHOTT B270 optical glass from Germany, without damaging image quality.
3. Filter tray, made of aircraft-grade aluminum alloy, is of good damping, wear-resistant, and anti-corrosion.
4. 18-layers coating on both sides reduces glare and ghost, waterproof and oil-resistant.
5. Compatible with 77mm lenses.
Work With
Compatible with 77mm lens
Packing List
1 x 77mm MRC CPL Filter
1 x Storage Box
Technical Data
Product Dimensions: 80 x 80 x 7.5mm
Package Dimensions: 111 x 111 x 21mm
Net Weight: 20.8g±5g
Package Weight: 82.5g±5g
Material: B270 Optical Glass, Aluminum Alloy